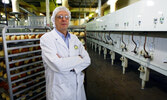 Food & Staff Safety & Security COVID-19.
Kinnikinnick's heartfelt commitment remains to bake you safe and scrumptious foods in a safe and healthy environment for all, given the challenges of COVID-19.
We're taking these extra steps, on top of having the highest safety standards already, to stop the spread and keep bringing you the foods you love. While keeping our staff safe.
Online orders

Much higher than normal numbers of online orders means you may have to wait just a little bit longer than usual for your shipment to arrive. We appreciate your patience. We're adding staff to ship as usual.

Please order in advance to ensure you and vulnerable people in your community don't run out of the foods you rely on.
Food & Facility Security
Food safety protocols are second nature at Kinnikinnick, and we're stepping them up to keep employees safe and healthy. Including : -
No entry to the plant for non-essential personnel without formal approval.

Any staff member returning from travel self-isolates for 2 weeks.

Any staff member with a family/household member returning from travel self-isolates for 2 weeks.

All business travel suspended – virtual meetings only.

Any staff member exhibiting any symptoms of illness, coughing, fever, shortness of breath or sneezing is sent home. Anyone with symptoms must be tested and not return to work unless either the test proves negative or a 2 week period has elapsed.

Our trained first aid staff are on heightened alert for any employee who might show symptoms. Infra-red forehead thermometers check staff for any indication of fever.

Extra sanitation measures ensure ingredients, equipment and staff are free from infection. Hand sanitizing stations have been added. No entry to the plant without using sanitizing stations. Door handles, hard surfaces and production equipment are sanitized multiple times per day.

Staff shifts altered to minimize the number of people in contact with each other.
We'll do everything we can over the coming weeks to make sure all the food you need arrives at your door reliably and safely.
We'll keep you posted on any conditions that may affect supplies.
If you have any questions, please email us at [email protected].
Sincerely,
Jerry Bigam,
CEO and President.