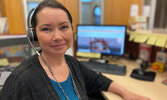 FAQ's Gluten-free Home Delivery
When you have questions about Kinnikinnick products and free shipping on our home delivery service, I'm one of the Customer Care team that'll pick up the phone or answer your emails. Kendra here, pleased to meet you.
There are a few questions that come up again and again–here are the highlights to make gluten-free shopping easier for you to manage.
Do you Ship your products frozen?
We ship our products at ambient temperature, designed for you to freeze as soon as your delivery arrives, unless you plan on eating them right away. Why not? At least one little treat.
All our products are free from preservatives so a couple of days on the counter is fine, otherwise, keep them frozen to maintain shelf life. Before serving, thaw and heat the product to bring out its best flavour and texture.
What's the shelf life of your products?
All our frozen products are good for 8 months in the freezer. All our dry items are good for one year. We bet that's longer than your willpower. Each box/bread bag is clearly marked with a 'best before/expiration' date.
What does the best before/expiration date look like and what does it mean?
You can usually find the expiration date embossed or printed on the box or you'll find it on the little white plastic closure tabs on bread bags. They'll look something like this: 2021 JN 30. The first number refers to the year (2021), the letters mean the month (June) and the last number is the day (the 30th).
What does "May Contain: Egg" mean?
Because our products are baked in a facility that uses eggs we flag all products we make with a "May contain: Egg" statement on the label, even if there's no actual egg as an ingredient. Confusing isn't it? For example, some of our 100% plant-based cookies and bagels are made using the same equipment as products that do contain eggs. Between batches, we have strict sanitizing procedures and protocols (under BRC regulations) to minimize the risk of cross-contamination.
How long will it take my order to get to me?
All web orders are processed the next business day, usually for shipment the day after that. If you order later in the week we don't ship over the weekend so we'll ship out the following Monday/Tue. We're closed on weekends so Friday orders are processed Mondays for shipment on Tuesdays/Wednesdays. Check the full schedule to get a better idea.
Sometimes if we're really busy, it takes more time to process orders so it could take a day or so longer to get to you.
Let us know if you have any other questions. We're here to help.
I'd also like to thank you. I love hearing all the positive messages you send us, thanking us for safe and scrumptious gluten-free and free from allergens products. Seems like you're loving the free home delivery program too.
Knowing I can help you in small ways by getting food to your door is always the highlight of my day. I hope you enjoy the safe and scrumptious baked goodies. We'll keep working hard for you.
The Best Things in Life are free from. Enjoy.