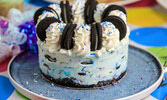 KinniTOOS

®

Birthday Ice Cream Cake

Nutrition Facts Canadian

Nutrition Facts
Valeur Nutritive

1 Portion 0g Total Servings: 0




% Daily Value

Amount

% valeur quotidienne

Teneur

Cholesterol / Cholestérol 0

mg

0%

Carbohydrate / Glucides 0

g

0%




0%

Vitamin A / Vitamine A

0%

Vitamin C / Vitamine C

0%

Riboflavin / Riboflavine

* Based on a 2000 calorie diet




Nutrition Facts US

Nutrition Facts

Per 1 portion 0g Total Servings: 0



Amount Per Serving

Calories

0

Calories from Fat 0




| | | |
| --- | --- | --- |
| Vitamin A 0% | • | Vitamin C 0% |
| Calcium 0% | • | Iron 0% |
| Thiamine 0% | • | Riboflavin 0% |
| Niacin 0% | • | Folate 0% |

* Based on a 2000 calorie diet




Share Buttons Inserted Here, the share buttons will be dynamically placed here. No need to do anything here.

Prep time

20 mins

Cook time

0 mins

Total time

260 mins

Ingredients

1½ packages Kinnikinnick Birthday KinniTOOS® - reserve ½ package (330 g)

½ cup Kinnikinnick Chocolate Cookie Crumbs (68 g)

1 tbsp butter (15 g)

4 cups vanilla ice cream (500 g)

3 tbsp confetti sprinkles (gluten-free) (45 g)

Optional: whipping cream and confetti sprinkles for decorating

Directions

Cookie Base

Using a pastry knife or your hands, combine Kinnikinnick Chocolate Cookie Crumbs and butter together. Set aside.
Line a 6 inch cake pan with a removable bottom or use a springform pan. Use parchment paper to line bottom and sides.
Press crumb mixture in bottom of cake pan. Set aside.

Assembly

In a mixing bowl combine confetti sprinkles and vanilla ice cream mix just until combined.

Divide ice cream into three portions. Spread the first portion evenly over cookie crumb base.

Place a single layer of Kinnikinnick Birthday KinniTOOS® on top of ice cream layer.

Spread a second layer of ice cream on top of cookies.

Line a second single layer of Kinnikinnick Birthday KinniTOOS® on top of ice cream layer (to help with slicing, line up cookies above first layer of cookies).

Finish with the remaining ice cream and spread evenly.

Freeze for 4 hours.

To remove cake from pan. Warm the outside of the cake pan with a kitchen torch or hot towel.

Carefully lift out ice cream cake by pushing up from bottom of a removable bottom or undo sides of springform pan.

Place KinniTOOS® Birthday Ice Cream Cake on a serving tray.

Decorate with optional whipped cream and additional Kinnikinnick Birhday KinniTOOS®.

Return to freezer until ready to serve.

Yields 6 servings




Tips & Variations

Finished height is 3 inches.



Stock up your pantry