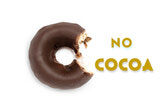 Dear family of customers,
You have probably heard about serious disruptions to food supply chains at all levels. For us at Kinnikinnick the most important missing ingredient is cocoa powder.
Our cocoa shipment, ordered months ago, is stuck in port but cannot be unloaded due to congestion. We've been updated to expect delivery next week. However, we've been told "next week" for more than three 3 weeks now! Apparently nothing can be done until the Port Authority can restore something close to normal unloading times.
In the meantime, we wait to see when we can restart manufacturing. This means no Chocolate Dipped Donuts, KinniTOOS Chocolate and Fudge Sandwich Creme Cookies, KinniKritters Chocolate Cookies, Chocolate Crumb, and Chocolate Cake mix as of November 8, 2021.
As soon as cocoa is back in stock the products will be back online so you can place an order. An unfortunate and unexpected situation over which we have no control but hope will be resolved very soon.
Thank you for your patience and understanding.
Jerry Bigam
President & CEO