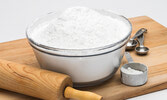 Keep your cookbooks.
By Chef Lori Grein
When it comes to gluten-free flour there are a few key tips to get the best out of it.
You need a blend of ingredients to mimic the elasticity of gluten in flour. If you try just using rice flour without a starch or gum, you'll end
up with a pile of crumbs that won't hold together.
The rule of thumb for a gluten-free flour blend is:

A flour base,
a starch or two,
a gum to mimic the function of gluten.

If you don't want to come up with your own version, Kinnikinnick has already done it for you. Our All Purpose Flour Blend is easy to use for cooking and baking and has a neutral taste. Just swap it for gluten flour in all your favourite recipes. We say keep your cookbooks!




Kinnikinnick All Purpose Flour Blend

contains

white rice flour,

potato starch,

tapioca starch,

guar gum

modified cellulose.

An ideal combination for your everyday cooking and baking needs.
Dos and don'ts using gluten-free flour.



Thickener

A ROUX is the best way to thicken soups, gravies and sauces. Roux is equal parts flour and butter (or dairy-free replacement). Melt butter, add flour and cook over medium-low heat for 3 - 5 minutes, stirring continuously, until it turns light brown with a paste-like consistency (like peanut butter). Slowly add liquid to the roux, stirring all the time to avoid lumps. Heat to thicken.




Rule of thumb is 1 tablespoon roux needed to thicken 1 cup of liquid.




You can add flavourings to the roux too. Herbs, cheese etc.

Coating

Use Kinnikinnick All Purpose Flour Blend to coat your favourite protein or veggies.




Moisten protein or veggies with water, oil or egg and dredge in flour, seasoned with your favourite flavours, herbs or spices.




Brown in a shallow frying pan with oil or butter. If baking, I recommend mixing Kinnikinnick All Purpose Flour Blend with Kinnikinnick Panko Crumbs for a crispy coating.



Baking
Kinnikinnick All Purpose Flour Blend works perfectly 1:1, keeping in mind a few important factors.
Gluten is a protein that creates the typical cell structure in baked goods. Because Kinnikinnick All Purpose Flour is a low protein blend, it preforms better for baking when you add a protein.
Eggs and/or dairy protein work really well with gluten-free flour to add volume, colour and structure to the end product. If you're dairy or egg free, soy or nut beverages work great instead. You can also use commercial egg replacers or natural egg replacer combos (check the blog) with our flour, you'll have to experiment with all the options to find the one that works best for you.
Yeast
Want to dabble with homemade bread, buns, and other yeasted products? For yeast to work you need a flour, acid, a protein and the gum/binder to create elasticity.
Our All Purpose Flour Blend already contains guar gum which 'sticks' ingredients together, but if you're using yeast, you'll also need to add xanthan gum.
Xanthan makes the dough elastic, creating a smoother, softer texture. Xanthan holds moisture and gives rise to the typical structure in yeasted products.




Rule of thumb. Add 1 teaspoon of xanthan to 150 – 200 g (3/4

– 1 Cup) of flour.




Lastly, when using yeast, you'll also need an acid like vinegar, apple cider vinegar or lemon juice and baking powder. Acid create the ideal pH environment for yeast activity and adds to shelf-life.




How much yeast in gluten-free baking?

There's supporters on both sides of this discussion. Some say add more yeast to get better lift and structure. Some say cut yeast in half.




Over the years, I've discovered it's best to keep yeast amounts the same as in gluten baking. By adding more yeast, yes, you'll increase a little in volume, but, also in yeast flavour. Hmm. By decreasing the amount of yeast, your baked goodies won't fully rise and fluff up.




A great tip for getting the right lift out of the yeast is to have all your ingredients at room temperature...even the eggs. This helps activate the yeast to reach maximum potential and keep down the amount of yeast you need.
To knead or not to knead yeasted gluten-free products?
Gluten-free dough only needs a delicate, short knead compared to the vigorous knead we give gluten dough. Only knead gluten-free dough up to the point that you can form it with your fingers (less sticky but still slightly tacky).
Let it rest for 15 minutes before forming into desired product (covered on the countertop works great).



Proof once or twice?




There's even more opinions on this question. Some say gluten-free only proofs once. Not true! I've tried and tested it time and time again in countless recipes.




Gluten-free or not, all dough benefits from a second proof to maximize the rise.




After the first proof, form or pan it into your end product, proof again for the full amount of time the recipe calls for, covered, somewhere warm. Bread on average takes 50 minutes and buns take around 40 minutes to proof. Same for any dough, gluten or not.
Carbonated water trick
Increase the volume and rise in baking gluten-free by using carbonated water instead of tap water. The bubbles help aerate the dough. Works really well for pancakes and waffles too!
Start slow and keep experimenting
If you're still wary of trying recipes from your family cookbook, which I hope you still have, try the 500+ online dishes I created in the Kinnikinnick family of recipes.
We've got you covered for recipes breads, buns and biscuits, to thickening gravies and soup stocks. From foolproof basics to gourmet, there's everything to get you started on your culinary adventure to perfecting your kitchen panache.
So get those old cookbooks out and let your imagination go wild. We'd love to see what you create! Post your creations to social media and tag us @KinnikinnickGF. Or submit your own recipes and if we publish it, we'll send you a $50 gift card.