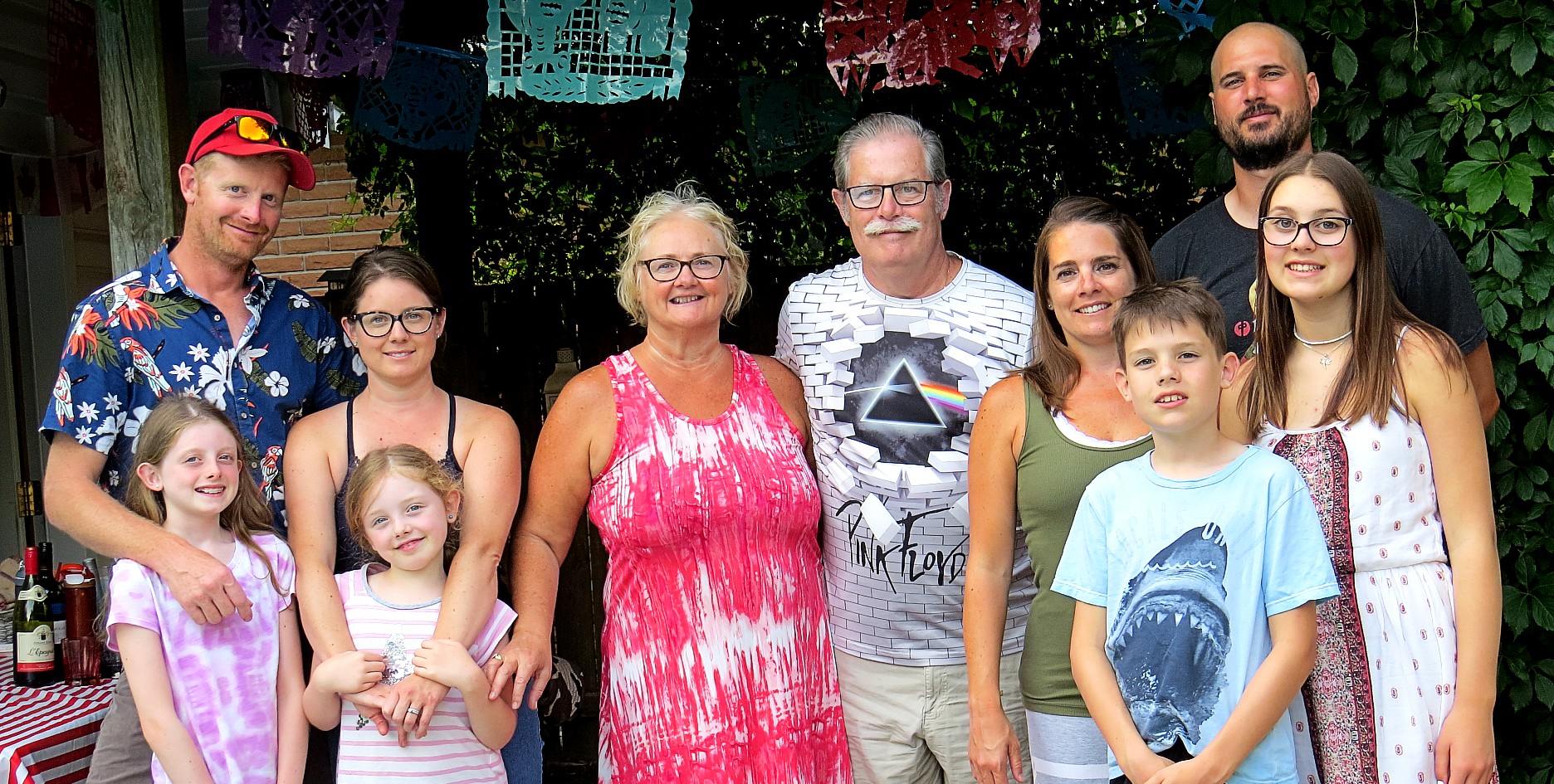 Anne-Marie and husband Denis in the middle. Left, Melanie behind Evy, Jim behind Holly. Right, Melissa, Dan behind Heidi and Blake.



Finding out who had Celiac disease in fifty-eight-year-old Anne-Marie Bacon's tight-knit family was like watching dominos fall.




The first suspect; her newborn granddaughter Holly; next the baby's mother Melanie, then Anne-Marie herself at forty-seven and her grandmother in her late seventies.




On top of that, Anne-Marie's mother, other granddaughters and son-in-law are also suspected of having celiac, although it's not been confirmed with biopsies.




"Looking back, all those years of feeling terrible began to make sense", Anne-Marie remembers. "When I finally did get my celiac diagnosis there was no 'poor me' because at last, I could actually do something about it".

Baby Holly's first Christmas, held by dad Jim and Melanie, Anne-Marie's daughter.


She's been gluten-free and happy ever since. Not easy for a food-lover like Anne-Marie whose favourite passion is cooking and sharing meals with loved ones, "Food is love, so sharing food is sharing love!", she believes.
Anne-Marie learned to cook amazing dishes from scratch from her mother and learned to love how food brings people together while working every job in her parent's family restaurant. A place so adored its 200 seats would be packed nightly by people from the tiny town of only a thousand residents. And those who'd drive a couple of hours and wait in line to get a table.



These days her greatest love is having the family over for a big dinner once a month where everything is gluten-free, mostly made from scratch except for Kinnikinnick bread and baked goodies. Getting together is a cherished celebration. And an excuse to spoil the grandkids.




"I have them all over for what they call a 'cousin party' sleepover. A special day where they get to spend quality time together," Anne-Marie recounts warmly, "Everyone has a Kinnikinnick Pizza Crust and chooses their own toppings. It's always a huge hit with the kiddos".

Pool parties at the Bacon cousin sleepover weekends.


Rewind to the first domino falling­--when feeding the grandchildren was more of a nightmare than a joy. By the time granddaughter, Holly was just a couple of months old, the family knew there was a serious problem. "Her mum, Melanie, was a gluten-filled carb queen—living on bread & pasta.





It was getting to Holly through breast milk, so she wouldn't sleep for longer than twenty minutes without crying, had constant diarrhea, and was just generally unhappy," recalls Anne-Marie woefully.




Luckily the baby's mom Melanie welcomed advice from her own mum-in-law, who has celiac, "I don't want to step on your toes but maybe the baby has celiac from my side of the family'.



Melanie playing with baby Holly
Dumbfounded but desperate, Melanie looked into celiac disease and decided to stop eating gluten then and there. Within days the baby was gurgling and giggling with happiness, the crying and diarrhea stopped and good nights' sleep started.
Melanie also realized she too felt so much better, no more brain fog or bloating and zero headaches. The household has been gluten-free ever since. When Holly's little sister Evelyn was born three years later, they took no chances. She's been gluten-free her whole life.



Seeing her granddaughter and daughter's improvement triggered the gluten-free light bulbs to go off in Anne-Marie's own head. Maybe her endless stomach issues, migraines and diarrhea weren't IBS or any of the other ailments the doctors blamed them on?




She took herself off gluten and felt better immediately. A few months later on her doctor's advice, she decided to get tested. But, to get a positive test requires the patient to be eating gluten, "I got sicker and sicker within days of guzzling down the pasta and pizza I hadn't eaten for months, so I had to stop eating gluten. I didn't have the test but I haven't eaten gluten since", Anne-Marie explains.




"Changing to a gluten-free diet for me wasn't that hard in a way because I'm a from-scratch cook", Anne-Marie explains, "I learned to sub out gluten-free flour or used corn starch for example". Luckily, in those early days, Anne-Marie had daughter Melanie to teach her what she'd had to learn for Holly, "The most important thing is to read labels and avoid all the hidden gluten in things like soy sauce".

Holly enjoying Kinnikinnick Waffles for Sunday brunch.
It was for Holly that Anne-Marie also first discovered Kinnikinnick Animal Crackers and always had a box on hand in the pantry for the little one's visits.




Then Anne-Marie discovered the donuts. "When I ate my first Maple Glazed, the first in years, I was so happy, I cried. It's really true I might've peed a little" laughs Anne-Marie unapologetically. "It's so amazing to have those treats which are hard to make even for a baker like me".




Anne-Marie and husband of 40 years Denis are now a totally gluten-free household, balancing out the treats with stir-fries, homemade soups, chicken, fish, turkey, and lots of vegetables. "The dinner rolls are amazing. My husband who's about the only one in the few in the family who can eat gluten, loves them".




It was eleven years ago, around the same time she realized she had celiac that Anne-Marie's grandmother was also tested and found to be positive. She'd been quite sick for most of her life because she didn't know. "That's why it's so important to find out. My mum also had issues her whole life, but she lived in denial of anything being wrong", Anne-Marie remembers. Her mom was never tested before passing away four years ago, aged 81.





Evy love Kinnikinnick donuts as much as grandma.









It was by serendipity the Bacon family found out that Anne-Marie's thirteen-year-old granddaughter Heidi, Holly's cousin, can't stomach gluten either. Heidi had been complaining of stomach aches for some time, but it was only after a sleepover at Auntie Melanie's gluten-free household that she had her first tummy-ache free weekend. Heidi is also now off gluten and the aches in her body and her head have disappeared.




One last surprise in the family domino tree. Melanie's husband, Jim, left for work in a hurry one day and forgot the gluten-free lunch she'd packed for him. So he picked up breakfast at a fast-food chain, the first gluten he'd had in ages. That day, he was sick as a dog. Jim realized that's how he used to feel all the time before going gluten-free at home for Holly, Evy, and Melanie's sake. No surprise he can't do gluten either considering his mother and sister are also celiacs.




Basically, both sides of Melanie's family carry the celiac gene. "But at least that's great for parties when we all get together because everything is gluten-free and no one needs to worry".

Heidi snacking on KinniKritters on a sleepover.
Hiking with the grandkids. Anne Marie, at the back Heidi & Blake. Grandpa Denis on the right. Evy & Holly in the middle foreground.
Anne-Marie's favourite time is when "All four grandkids sleep over, no parents and we spoil the heck out of them," she smiles, "It's wonderful to take them swimming, or camping in summer, tobogganing in the winter". Fueling all this fun are S'moreable Crackers for campfire treats and Animal Crackers in baggies for snacks "I mix up all three flavours in one" Anne-Marie explains how Kinnikinnick is all the family's go-to now for gluten-free goodies, "Peanut butter and jelly sandwiches on white by the swimming pool is how we spent this summer".
| | |
| --- | --- |
| | |
| Holly enjoying a Chocolate Dipped Donut | Evy tucking into waffles on a sleepover breakfast |
It was only during Covid in 2020 when the stores emptied of many gluten-free products that Anne-Marie discovered Kinnikinnick's free-shipping home delivery program. "I had no idea you had such an extensive line. It's a game-changer to have all those products that I can eat again now and delivered to my door during a pandemic".
Three generations of one family, all enjoying Kinnikinnick products to stay healthy and happy. Holly, now aged 11 is thriving. She's smaller and smarter than most kids for her age,, big into sports and the arts. Heidi, 13, is all about painting, drawing, making bracelets, rings to occupy her super-creative mind! She loves the challenge of creating something out of scraps of this or that!





Anne-Marie's advice to newly diagnosed celiacs? "Embrace your new reality, you're in control, you have the power to heal your body simply by eating gluten-free! No needles, no pills, no surgeries needed, simply find tasty products like Kinnikinnick bread, donuts, pizza crusts, and have fun with your new world. I know it's overwhelming, just start small, add things one at a time."




The next big culinary challenge for Anne-Marie, a self-confessed maple syrup addict, is to discover all the ways she can enjoy those Maple Glazed donuts with her namesake. Bacon.

Anne-Marie's 57th Birthday celebration with Evy.
UPDATE MAY 2022
Anne-Marie entered well-earned retirement this year. It's afforded her time to volunteer at a welcome kitchen for Ukrainian refugees arriving in Canada from the heartbreaking war in their homeland.
As far as the family goes, the Bacons are relieved Covid and the limits on gamily gatherings are over. Easter traditions were happily rekindled. A scavenger hunt for each grandchild, with different clues and prizes for each. Gluten-free of course.
This also means S'mores around the campfire are back on the menu. Summer 2022 is going to be memorable for hugs and sweetness which means even more now than when we took time together for granted.
| | |
| --- | --- |
| | P.S George the Golden Retriever joined as the latest member of the family. |