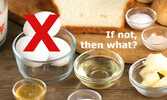 By Chef Lori Grein
We're often asked about egg replacers and substitutes using Kinnikinnick All Purpose Flour Blend or cake mixes. It's a growing trend as more and more people find they're allergic to eggs or people want to bake gluten-free and vegan and want to use our baking cake mixes or flour.
The main thing to keep in mind when choosing a substitute is whether you need it for binding or leavening or both?
A binding agent helps stick ingredients together – like using an egg to combine protein and breadcrumbs in a meatloaf. Leavening causes the dough or batter to expand by creating a reaction in the ingredients that creates air pockets. It's what makes a dough 'rise' and double in volume for example.
Download PDF infographic by clicking on the image.
Eggs characteristically add many qualities to baked goods; colour, flavour, cell structure, fluffiness, binding. Finding the right combo of ingredients to replace all these functions can be challenge…adding gluten-free to the mix makes it even more difficult.
Before we breakdown binding and leavening, there's one other really important factor to remember.
1 egg = ¼ cup (4 tbsp) liquid. So when using an alternative you must replace the full volume of liquid.
Top Tip: If a recipe calls for water, switch it to carbonated water. It adds aeration without adding flavour or colour.
There's a limit to how many eggs you can replace in a recipe. If you're replacing more than two eggs in a recipe I always recommend using a commercial egg replacer instead because the substitutes work really well, but only up to a point. Stay away from anything needing more than 4 eggs like Angel Food Cake or a Chiffon. Disappointment is likely.
For Binding
Cookies, pancakes, waffles and brownies. Replace each egg with:-
½ medium banana replaces one egg. You can't use banana to replace more than one egg, it can result in a rubbery texture and change in taste profile.
¼ cup fruit purée like apple sauce (will add flavour &/or colour)
1 cup boiling water + 2 tsp vegan gelatin (allow to dissolve and thicken slightly)
1 tbsp flax seeds + 3 tbsp

warm

water (allow to thicken for 10 minutes). Will not leaven. Add 1 additional tbsp to the recipe also to make up required volume of liquid.
1 tbsp gluten-free instant potato flakes and ¼ cup water
For Leavening
Cakes, cupcakes, muffins, buns.
When it comes to cakes I always recommend using a commercial egg replacer but these are some of the most common alternatives.
Replace each egg with:-
2 tbsp water + 2 tsp baking powder + 1 tbsp vegetable oil (combine before adding to dry ingredients). Replace up to 2 eggs max. And add one additional tbsp water to the recipe.
1 tbsp vinegar + 1 tsp baking soda (combine before adding). Replace up to 2 eggs max.
3 tbsp aquafaba (liquid from canned chick peas or boiling beans). Whip into a meringue before adding.
Yogurt and Buttermilk. Some people say you can use these, but I prefer not to because even though they might add flavour and colour, they do little to add volume and cell structure.
If you're looking to replace cooked eggs like scrambled or an omelette, the closest for me is to purée plain tofu with water until smooth and then flavour with herbs and spices before frying. This mixture, plain, can be added in purée form to muffin or pancake recipes, using an equivalent of 4 tbsp for each egg.
Given there are so many ways to use the combinations above, one advantage of using a commercial egg replacer is the experimenting with ratios has already been tested for you. Of course you'll have to read the labels to make sure there's nothing in the list of ingredients you're allergic to.
Commercial egg replacers can be made from a long list of ingredients. Some are simple like a combination of potato starch, tapioca flour, baking soda, psyllium husk fibre. Others list soymilk, cellulose, gum, calcium lactate, carrageenan, nutritional yeast, black salt, beta carotene for color
One additional thing to keep in mind. If you're using a gluten-free cake mix that already has leavening ingredients in it, (like baking powder or soda or vinegar), I really recommend you use a commercial egg replacer. If you try to use the substitutes listed above, too much additional leavening agent will make your goodies taste like soda cake or a bar of soap. I recommend creating your own recipe using Kinnikinnick All Purpose Flour Blend.
It's likely you'll still have to experiment to come up with the combination of taste and texture profile you like best. But if you follow these guidelines, you'll save a lot of testing time and flat or soapy cakes. Let us know if you find any other amazing solutions we haven't listed and we could add to our list. Write to us at [email protected].
Happy experimenting. And remember to share your culinary creations with us on social media @kinnikinnickGF
Try these recipes