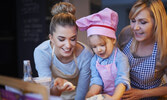 Egg allergies are the second most common food allergy after cow's milk, affecting between 0.5 - 2% of children under the age of two in North America and Western Europe. Although most grow out of it by school age, a third stay allergic their whole life.
In severe cases, the reaction can lead to anaphylaxis and difficulty breathing, sometimes causing death.
That's why we're taking egg out of our baked goodies. Thirty three products, more than half our range, are now free from egg:
Breads, Hamburger &Hot Dog Buns. See the white Vege-Cert logo on the bag.
Bagels
Dinner Rolls
Pizza and Pie Crusts
Cookies - KinniToos, KinniKritters, Smoreables Graham Style Crackers, Montanas Chocolate Chip.

Waffles
Crumbs - Panko, Graham Crumb, Chocolate Cookie Crumb
Mixes - Pancake & Waffle, Sugar Cookie, Chocolate Cake, White Cake
All Purpose Flour Blend
So many choices now suitable for vegans and those eating a 100% plant-based diet as well as gluten free for celiacs and free from dairy, nuts, peanuts and soy for those with other allergies.
We're working on a basket of new products, so keep checking back.
"As more people avoid eggs due to allergies, we keep pioneering the use of plant-based ingredients in our gluten-free baked goods. Which means they're great for vegans too," explains Jerry Bigam, Kinnikinnick's CEO of the latest trends in allergy-friendly food.




The goal set for our Product Development Department, headed by Mandi Hoke is to come up with "Baked goodies so scrumptious, you're proud to share with everyone, allergic or not," she explains.




Kinnikinnick was the first gluten-free company to use pulses and plant-based proteins in our range of baked goodies, back in 1991. We're proud of that. We keep up with today's trends by listening to customers and changing the recipes of many of our products to remove all top allergens, starting with gluten, then dairy, nuts, peanuts, soy and now eggs in almost half our range.






"Baking without gluten can be challenging in itself. When you remove eggs too, you really have to put your thinking hat on!" Hoke muses. "Add our strict safety and supply protocols, and the bar is set really high in finding the perfect swap," adds Bigam.




After months of trials, failures and successes, we discovered awesome plant-based alternatives for egg, resulting in perfect pie crusts. Melt in the mouth flaky.




Same goes for our newly formulated free from egg Pizza & Flatbread crusts. They brown beautifully. Cook for as long or as little as you like to get the authentic crispiness you prefer.
We went through nearly a hundred recipes until we found the perfect new bread formula.
Only when we've taken egg ingredients out of ALL our products, will we make the claim to be free from eggs completely across the board. Which, leaves us with our next challenge, new plant-based recipes, as good as, if not better than, existing favourites.
In the meantime, you'll still see "May contain: egg" on our packaging, which means that although that product does not contain any egg ingredients, it is produced in a facility where egg ingredients are used in other products.
Next on the list are muffins, donuts and the cookies that still have them, Vanilla Wafers and Ginger Snaps.
We can't wait to hear what you think of the new recipes so please write to us here and on social media, letting us know what you loved most.