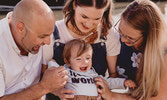 Everything came full circle in the garden. "It was like a sign from the heavens," Giselle exclaims, recalling the time she'd asked a stranger "What's that prickly-looking bush in your yard?" "It's Kinnikinnick", the gardener offered, "Alpine bearberry, so called because bears love it when they come out of hibernation".
Eureka. "I'd been trying to remember the name for the 'Kinnikinnick' bakery for ages," explains Giselle, "My mom fed it to me as a kid when it was the only thing I could eat without getting sick. I needed to find it again for my son Henri, who was even sicker than I had been as a baby with all his allergies".
Call it coincidence, the very next day in the supermarket 16 month old Henri kept pointing to a box of Animal Cookies on the shelf. As luck would have it, the cookies were made by Kinnikinnick.




"It was weird that Henri was pointing to the same brand", Giselle laughs, "But he was allergic to almost everything at that point so it was only after carefully reading the label that I could be sure he'd be able to eat them without throwing up".

Which one does Henri go for when he's got a bunch of Kinnikinnick cookies to chose from?



Being able to eat those Kinnikritter Animal Cookies marked a magical moment in Henri's life. Diagnosed with Proctocolitis and Enterocolitis (inflammation of the stomach, bowel & colon) they were the first store-bought food Henri had ever tolerated in his life.




Gluten, dairy, eggs and many vegetables caused vomiting, diarrhea, bloating and pain. By the time Henri was only six month old he'd stopped growing and the doctors said they only had a few months to figure out what was wrong.




His mom Giselle had a few clues to go on from her own childhood. As a toddler in day care caregivers soon found out that if she ate any of the other kids' gluten-filled food, it would only take an hour before she'd be so dehydrated from diarrhea she'd need to go to hospital and get an IV. As a child Giselle would go through mood swings, personality changes and get really irritable whenever she ate gluten or dairy.



Giselle's mom, Michelle, knew the difference when her daughter did and didn't eat these two allergens. So much so, that back in 1991 they'd drive 45 minutes to the Edmonton, Alberta Farmer's Market to pick up the only gluten-free bread available at the time. At the Kinnikinnick stall, where the company started, thirty years ago.
| | | |
| --- | --- | --- |
| | | |
| New-born Henri in Mum Giselle's arms. | Henri trying out different foods. | Henri learning about life. |
They'd stock up weekly on breads and treats at the market and freeze them for the winter months when it wasn't open. Giselle seemed to grow out of the most severe reactions when she was about eight, except irritable bowel, so she's avoided gluten and dairy ever since. 'It was a gut feeling', she laughs. Although doctors suspected celiac, Giselle has never been confirmed, because her only test was done when she'd already been gluten-free for years.
"There's an allergic streak in our family", Giselle recalls. "My niece Taeya had extreme allergies to milk, eggs, beef and gluten". Taeya was three when Kinnikinnick came back into the family's life a second time, Grandma Michelle reminded Taeya's mum Danielle that Kinnikinnick had been a lifesaver for her sister Giselle when she was a kid, so why not try it for Taeya?
The family lived in the same city as the Kinnikinnick Fresh store in Edmonton, so it was easy to get their hands on not just the 44 products sold in stores across N America, but also another forty-plus goodies baked-fresh-daily at the specialist bakery attached to the company's headquarters. Funnily enough though, even with all that choice, just as it came to be for Henri, years later, the first treat Taeya tried was also KinniKritters Animal Cookies.
| | | |
| --- | --- | --- |
| | | |
| Henri and Giselle sharing the little things. | Giselle has learnt to cook using safe & scrumptious ingredients. | Two peas in a pod. |
"Henri unfortunately turned out to be even more allergic than Taeya", Giselle remembers. "He would even react to my breast milk if I'd eaten anything he didn't agree with. In the beginning it was so severe, that for a whole month I could only eat three things, pork, broccoli and rice. No herbs, no spices, nothing else".
As a dedicated mother who would stop at nothing to get her son healthy, Giselle and her health care providers came up with a plan for introducing Henri to new foods to see if he'd tolerate them. Henri would try one new food a week. He'd get a taste every day and if he didn't vomit within four hours, Giselle would add it to her diet. Then after a week and he was okay, it would be added to the 'safe' list... By his first birthday, Giselle had discovered 23 foods Henri could eat safely. In the process she'd lost 40 pounds in weight. "I was too thin, I needed to get more calories in me", she recollects.
That was when Kinnikinnick came back into their lives for a third time. Walking past the Kinnikinnick berry bush in the lady's garden that opened this story, Giselle was reminded of all the goodies she'd been able to eat as a child.
"I can't tell you the relief when we discovered that Henri could safely eat Kinnikinnick, which is free from gluten, dairy, nuts, peanuts, soy as well as the products that are also egg free", Giselle remembers. "I hadn't had bread in over a year when I had my first slice of Kinnikinnick. Heaven. I put on about five pounds in that first month, at last being able to have treats again".
| | | |
| --- | --- | --- |
| | | |
| Testing foods Henri can tolerate. | Henri growing stronger. | On a hike with Dad, Dave. |
Now at 16 months, Henri has 50 foods he can eat. Giselle has become an ingenious cook and our All Purpose Flour is a main staple in the pantry. "I've become a dietitian and a baker, loving the challenge and figuring out what I can substitute in recipes", Giselle points out, "Being able to share the journey on social media was also vital for my mental health. Sharing tips and recipes was great, but the most important thing was realizing I wasn't alone and we can all learn from each other's knowledge and support".
With all the love and care Giselle has been pouring, Henri is doing very well. He's still small for his height but he's gained a good weight in the 25th percentile. He found out where the KinniKriter Animal Cookies are hidden in the kitchen, so he climbs up the cupboards to get his paws on the packet. "Kinnikinnick is going to be our go-to brand for getting Henri healthy as he grows up", Giselle offers.
Grandma Michelle is also thankful. "People underestimate the value of a family-run business that invests in a culture of people in need. It's those businesses that lead the way because they really care and they know what it feels like to see a loved one suffer. My family is forever grateful".
Have you ever seen a kid this happy eating?