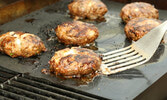 Grilling season is here. Grill mats are brilliant for gluten-free cooking on the BBQ.
For celiacs and those allergic to certain foods, there's always a worry that traces of sauces containing gluten or bread crumbs can get stuck in the BBQ and end up in your food, making you sick.
It's important to remember that a BBQ can't be "sterilized" of gluten just by heating it up. Normal heating (10 minutes at 350ºF) kills microbes like salmonella, but gluten is a protein and it takes much higher temperatures to destroy.
You CAN clean a BBQ that's cooked gluten by scrubbing the grill thoroughly on all sides and then heating to 500ºF for a minimum of 30 minutes. 60 is better. At these temperatures, any gluten protein will be fully denatured (destroyed) and pretty much turned to safe, charcoal ash.
If you don't have time for that, then try taking a grill mat with you to summer gatherings and using one when you have gluten-free freinds and family over.
1) Construction - grill mats are all made of fibreglass cloth infused with polytetrafluoroethylene (PTFE) - the coating used in nonstick cookware. The more layers of PTFE on the cloth, the longer it lasts and the better the quality of the mat.
2) Barrier - use a new or clean grill mat on any BBQ and you'll reduce the risk of cross contamination from anything cooked on it previously. This isn't going to work if someone else is heating up gluten-filled hamburger buns on the other side of the BBQ, but you can always ask them politely to wait until you're done.
3) Non-stick - nothing sticks to the grill mat, not even melted cheese so you can cook everything on it, even pancakes.
4) Char Marks - that's why we love BBQ's, for the burnt crispy marks on the food, which come through perfectly using a grill mat.
5) Nothing falls through - want a BBQ'd tomato? You can on this mat. As well as small veggies that usually fall through the gaps.
6) BBQ lasts longer - grill mats stop food falling through and clogging up the burners, extending the BBQ's life.
7) Other Utensils - The grill surface is just one potential source of cross contamination. Remember to use designated gluten-free utensils when you BBQ - tongs, forks, knives, cutting boards, aprons, bowls etc.