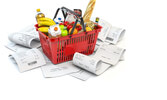 In Gluten-free budget tips. Part 1. Meal Planning we laid out all the ways you can save money by deciding what you're going eat well in advance and shopping accordingly, so you don't waste anything.
In Part 2. Shopping we highlight all the ways you can save at the grocery store, farmers market, discount warehouse or online checkout. We also cover tips on bringing costs down by sorting out and managing the pantry and the freezer properly.
Budgeting on a gluten-free or allergy friendly diet bears many of the same burdens as those who don't have food restrictions. And the same solutions. But given that options are more limited if you have to cater to life without gluten, taking advantage of every way to save money by shopping sensibly in a well-researched, strategic way can save you time, dollars and stress.


Here are our top tips for making your hard-earned dollars go as far as they can.
Pre-plan your shopping
Don't shop daily or every few days. You're more likely to splurge on impulse buys and snacks & forget what's at home.


Don't shop hungry or after a stressful day at work. When we're tired and hungry we tend to binge-shop or buy more convenience items.


Discount days. Plan your biggest shop on customer appreciation days that offer 10% off at the grocery store. This is the time to stock up on pantry staples.
Coupons and Discounting
Time spent researching deals can save you quite a bit of cash over the long haul.


INSTORE
Research online flyers for the best instore deals, sales or coupons. More and more grocery stores and manufacturers are offering print-at-home digital coupons for instore redemption.
Only cut paper instore coupons for products you plan to use, or you're just buying for the sake of it, increasing the likelihood of waste.
It may pay to visit a few stores to get all the discounts, but factor in whether the extra drive time and gas is worth it.
Watch pricing deals. A 2-for-1 deal is only worth it if you're going to use it. Don't buy just for the sake of it. If you can gift a friend or someone in the family, that's priceless.

ONLINE
Online Coupons Browser Extensions - Add one of these plug-ins to your browser and it will notify you of any coupons & promos attached to the web page you're searching. Or you can search by grocery store you plan on visiting. There are many extension options to suit your shopping style. All free. Some even reward you for using them. https://www.joinhoney.com/ is popular but there are too many to list all.


Check online for non-perishable items you can buy in bulk at a discount.


Sign up for email newsletters to companies you like which offer promos, discounts and free products on their online stores. Like ours.


Sign up for apps like https://toogoodtogo.com/ which lets you pick up a mystery bag of soon-to-be-out-of-date product at the end of the day at your local stores for a third of the normal retail price.
Store Loyalty Cards/programs
Loyalty programs offer a variety of discounts & rewards. Many track your purchases and offer discounts on frequently-bought items.


Sign up for as many as you can, allows more variety for deal shopping while getting benefits at each.


Ask for a price match on a deal you found at another local store. Most places will honour the difference.
Bulk Buying
Buy non-perishable items in bulk. Go in with friends and family to make up the required quantity and save everyone cash. Case-lot sales can save you a little but can add up to a lot over time.


Buy in bulk and package into smaller quantities for storing. This works just as well for big bags of rice as it does for snacks you break down into snack size portions.


Buy in season at the lowest prices and freeze, de-hydrate or can for use when prices are highest.
Grocery Store Extras (cleaning/packaging/waste)
Check out discount stores for cleaning supplies, plastic wrap, sandwich bags or foil. Prices can be much lower than in grocery stores.
Check bulk purchase on these items, usually cheaper to buy. Keep these items on a separate bill, which makes it much easier to keep track of what you're actually spending on food.
General Tips for Pantry & Freezer
FIFO (First in, first out) rule – Rotate through the pantry and freezer to make sure nothing goes out of date. It is easy to miss things that get buried at the back of the fridge or bottom of the freezer. Organize into compartments by food type to make it easy to identify products & keep track of quantities so you don't buy too much or run out.


Buy meats in bulk when possible and freeze. Portion and label with best before date.


Pre-cook & portion meats for quick meals. Keep a small selection of cooked ground beef in meatballs, for tacos or patties. Pre-cooked chicken works great for soups, casseroles, wraps or stir fry.


Freeze items in proper storage bags or containers. There's nothing worse than losing a roast you got on sale to freezer burn.


Clean the freezer every January. A fresh start every year that gets rid of Christmas leftovers and anything old.


Most fruits and vegetables can be successfully frozen just before they turn. Freeze them, don't lose them.


Stock-pile staples when they're cheapest. Then you won't have to pay full price for basics or top dollar at the convenience store when you run out in an emergency.


Bake in bulk and freeze. Baking at home is often cheaper than store-bought and it takes the same amount of time to make one banana bread as it does four.
Social Media
Join your local gluten-free community group. It's the best place to stay on top of deals at local stores and find tried-and-tested gluten-free recipes that work. On top of that, you can find new discoveries, great restaurants, and it's a great way to connect with other people on the same journey.
If you have any more ideas please let us know and we'll add them.