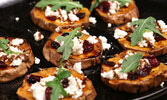 Sweet Potato Medallions

Nutrition Facts Canadian




Nutrition Facts US




Share Buttons Inserted Here, the share buttons will be dynamically placed here. No need to do anything here.

Prep time

15 mins

Cook time

20 mins

Total time

35 mins

Ingredients

2 lb sweet potatoes (908 g)

3 tbsp olive oil (45 g)

½ tsp salt (2 g)


1 tsp black pepper (2 g)


4 oz goat cheese (85 g)


2 tbsp cream 33% (30 g)


1 tsp fresh rosemary - stem removed/chopped fine (3 g)


½ cup dried cranberries - soaked/drained (86 g)


3 tbsp balsamic reduction (45 g)


Optional: garnish with arugula or pea shoot




Directions

Sweet Potato

Preheat oven 400°F (204°C). Line a baking tray with foil and spray or grease. Set aside.
Cut sweet potatoes into ¼ inch medallions.
Place on foil lined pan single layer.
Drizzle with olive oil and season with salt and pepper (both sides).
Bake in preheated oven for 10 minutes per side.

Remove from oven and let cool slightly.

Place on a serving tray and set aside.

Assembly

In a small bowl beat goat cheese until smooth.
Add cream and rosemary to goat cheese. Mix until smooth.
Place a dollop of goat cheese mixture on top of each Sweet Potato Medallion.
Sprinkle with cranberries and drizzle with balsamic reduction.
Garnish with optional arugula or pea shoots.
Serve warm




Tips & Variations

Use small tubular sweet potatoes- no wider than 2 inches in diameter.






Stock up your pantry