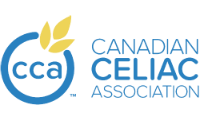 Kinnikinnick is a proud sponsor of the Canadian Celiac Association, a registered charity founded in 1973 before most people even knew celiac disease existed. 2023 is the organisations's 50th anniversary.
The organisation was started by two women with personal experience of celiac disease, who wanted to help and educate others. Initially, the goal was to provide information on gluten-free food, research and to encourage community. Most importantly, then and now, it's to help people take control of their lives through mutual support from others and education.
Today the CCA is an invaluable resource of reliable, up-to-date information for those living gluten-free, their families and health care providers.
For the last year Kinnikinnick has partnered with the CCA on Growing Up Celiac a campaign to teach kids, parents, teachers and carers how to live as normal a life as possible.




Together we're creating programs that teach kids to build confidence and speak up for themselves. Practical skills like learning how to cook safely, taking part in social media contests as well as videos on navigating celiac at university.




Parents can download the Growing Up Celiac Workbook, packed full of dos and don'ts on how to navigate life free from gluten. An all-around education for everyone and a great foundation for the future.




Julie Greene, CCA's Manager, Marketing and Sponsorships describes working with us this way, "We love working with Kinnikinnick. They're a family company that truly understands celiac disease and cares about the community. We feel lucky to have them on board as a trusted partner".
Future initiatives on a national level include back-to-school solutions to the toughest challenge facing most parents. What on earth to put in the school lunch box? We've come up with a month's worth of recipes kids will be excited to tuck into; knowing they'll be safe and scrumptious.
The CCA will be using social media to get information out to the public, so sign up and stay in the know. TikTok launches soon as well as Twitter, Facebook and Instagram.
You can also download the CCA's new grocery shopping app. Gluten free 24/7. It's a digital "pocket dictionary" on your phone to check what's on the celiac shopping list and what isn't, and how to read labels.
For the newly diagnosed there's a program launching summer 2022 that takes you through the first two years of life with celiac disease. Educational programs, kits, digital resources, and most importantly an online community where you'll find support and advice from your peers.
There's also a new State of Celiac Survey launching soon, where you can share your experience so we can understand the landscape of celiac disease across Canada better.
2023 is the CCA's 50th anniversary so we'll be sure to celebrate togheter and come up with more exciting initiatives.

Locally we're very active with our local CCA chapter in Edmonton, Alberta. 2022 sees the return of our favourite event, a pancake breakfast and street party. Volunteers cook up a safe and scrumptious break-feast of pancakes, sausage, and baked treats. Revelries include music, gifts, fun and games.
The Edmonton chapter has always been active and has recently been given a boost of energy from local rep. Lisa Rigney, whose daughter has Celiac. Lisa overflows with ideas and does so much good. She inspires us. Because we also want to help the young early in their journey, we teamed up to donate products for CCA Celiac Kids Rock Support Group where kids come together, learn to cook and feel safe sharing experiences and challenges.




Imagine trying to organise teenagers into a Celiac Youth Club. "It's a tough audience, but I'm up for the challenge", laughs Lisa, "They need support to find other kids like them. Friendships will form, youth volunteers will be born and who knows...even future board members", she quips with her warm Irish humour.





Wanda, Paul and Lisa Rigney from the Edmonton CCA Chapter at Kinnikinnick.
We're also looking forward to feeding all the participants after a day in the park doing the Edmonton Ride, Walk, Run fundraiser in the Fall too. It's a great day to get outdoors, get healthy and raise cash and awareness at the same time.
And remember we offer 15% off CCA members on the first Tuesday of every month in our Edmonton retail store - a one-stop-shop for fresh-baked goods, branded Kinnikinnick products and allergy-friendly groceries.
If you have any ideas about how you think Kinnikinnick and the CCA could work together and help the celiac community let us know.