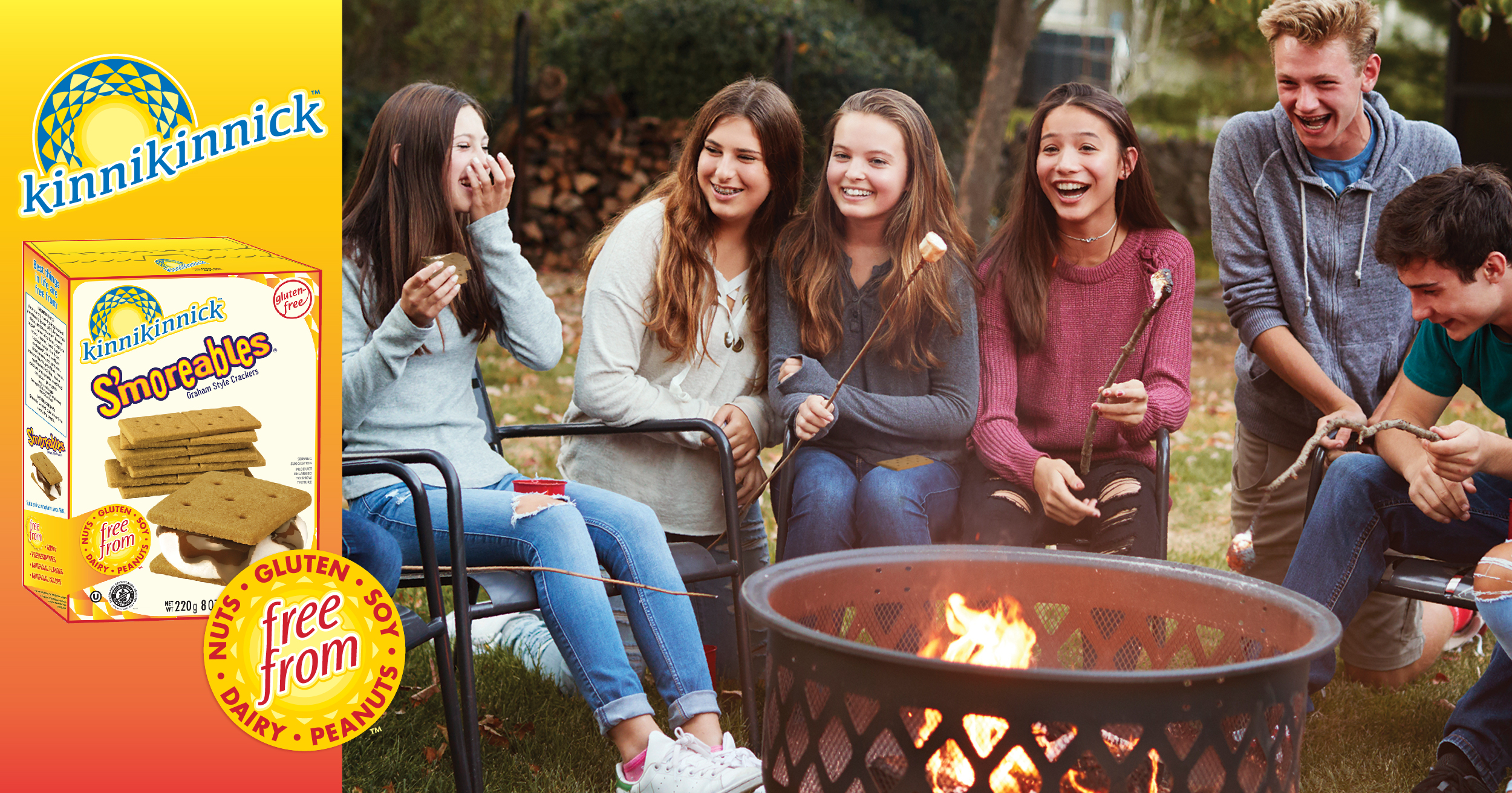 Share S'more time together. We love that our S'moreables® graham-style crackers are good enough to share with all your friends & family, gluten intolerant or not.
Here's a list of our top ten favourite ways to elevate the simple S'more to a marvellous miracle.

White Chocolate & Strawberry S'mores
If you love melted white chocolate, you'll adore pairing it with thinly sliced strawberries and a toasted marshmallow nestled between two S'moreables® graham style crackers.


Bacon S'mores
A very Canadian treat. Add half a slice of crispy, streaky bacon on top of the chocolate, top with marshmallow and melt in the wonders of a sweet & salty, crispy gooey heaven.


Mint Chocolate Apple S'mores
Try mint chocolate instead of the traditional milk. And if you like a touch of crispy freshness, add a slice of your favourite sweet apple between the crackers or on the side.


Salted Caramel Chocolate S'mores
Salted caramel chocolate is a much-loved choice to add to toasted marshmallows. All you need after that is a few boxes of S'moreables® to get you through the demand. You can also use caramel sauce and sprinkle salt on top instead.


Raspberry Jam S'mores
A twist on traditional…Spread your favourite jam on a S'moreables® cracker, then add chcolate and a perfectly toasted marshmallow and enjoy. This one is super sticky, so have wipes on hand or be ready to lick those fingers. And jam gets really hot so let it cool before finding your mouth.


Cardammon & Coffee S'mores
For the connoisseur who prefers a little gourmet, use exotic-flavoured chocolate alongside your fluffy toasted marshmallow. How about ginger & coriander. Earl Grey & lavendar. Possibilities are endless.


Spicey S'mores
If you like yours with a kick, either use cayenne-infused chocolate, or sprinkle a little Cayenne powder on the melted chocolate before adding the marshmallow. Don't overdo it!


Nutcase S'mores
If you love chocolate and nuts together, either use a nut-encased chocolate, or add a dollop of your favourite nut butter to one side of the cracker, the chocolate to the other, so both heat up a little. Marshmallow between as usual.


Berry Good S'mores
Raspberry & dark chocolate is a match made in heaven. Sweet blackberries and 70% chocolate are a perfect combo. Try pairing your favourite berry with a dark chocolate, topped off with a toasted marshamllow, for a multi-leveled taste explosion.


KinniToos S'mores
Here's a real break with tradition. Instead of using a S'moreables® cracker, open up one of our KinniToos sandwich crème cookies, add a slice of chocolate and a melted marshmallow in between.
One last note, S'mores and toasted marshmallows get very hot. Please, please, let them cool before devouring. And if you make great S'mores send us your photos or post to our social media channels, we'd love to see your favourite concoctions.