Thirty years of gluten-free and still growing strong.
By Jerry Bigam; President and CEO of our family-owned business
This year marks our 30th year in the gluten-free business. Looking back over the years gives us a great deal of satisfaction. The company's origins are at the local Farmers Market. A visitor commented to one of Kinnikinnick's founders, Ted Wolfe, who was selling bakery products, "You should make some gluten-free bread. There's nothing in the market for people like me."
| | |
| --- | --- |
| | |
| Where it all started back in 1991, Edmonton, Alberta. | Original founder, Ted Wolfe outside the first store. |
That was the beginning of Kinnikinnick Foods Inc. The small retail store of 800 sq ft supported by a home bakery became the start of the company. It soon became clear the local market was quite small because in those days almost no adults were diagnosed as Celiacs. Back then it was still considered "only a childhood" disease, if it was even diagnosed at all.
From that small start we began shipping by bus. Then Canada Post. Then by US Post, which required gas-flushed packaging for deliveries that could take up to ten days. Soon customers all over Canada and the USA were ordering, at last able to access some decent gluten-free food.
| | |
| --- | --- |
| | |
| The website Jay Bigam built, 1998. | Jay programming 'this internet thing' 1999 |
The opportunity became evident. So what to do? My son Jay, realised the potential of "This new technology called the Internet." The rest is history. We developed the first food-based direct home delivery program in North America. For 21 years we've been delivering to households across the continent. Those who were Celiac got to know us through this program and retail stores got to know us through our Celiac customers.
Big changes over this time. In the early days, bread was like bricks; limited products; cardboard texture; nothing close to conventional bakery items. By contrast, today there's an enormous variety of bakery items on the market. Every year new companies pop up to produce special items based on consumer's preferences. And more and more of these products provide taste, texture and quality very close to conventional offerings. Looking back and seeing the progression from early days to current days is to see a dramatic improvement in food variety and quality.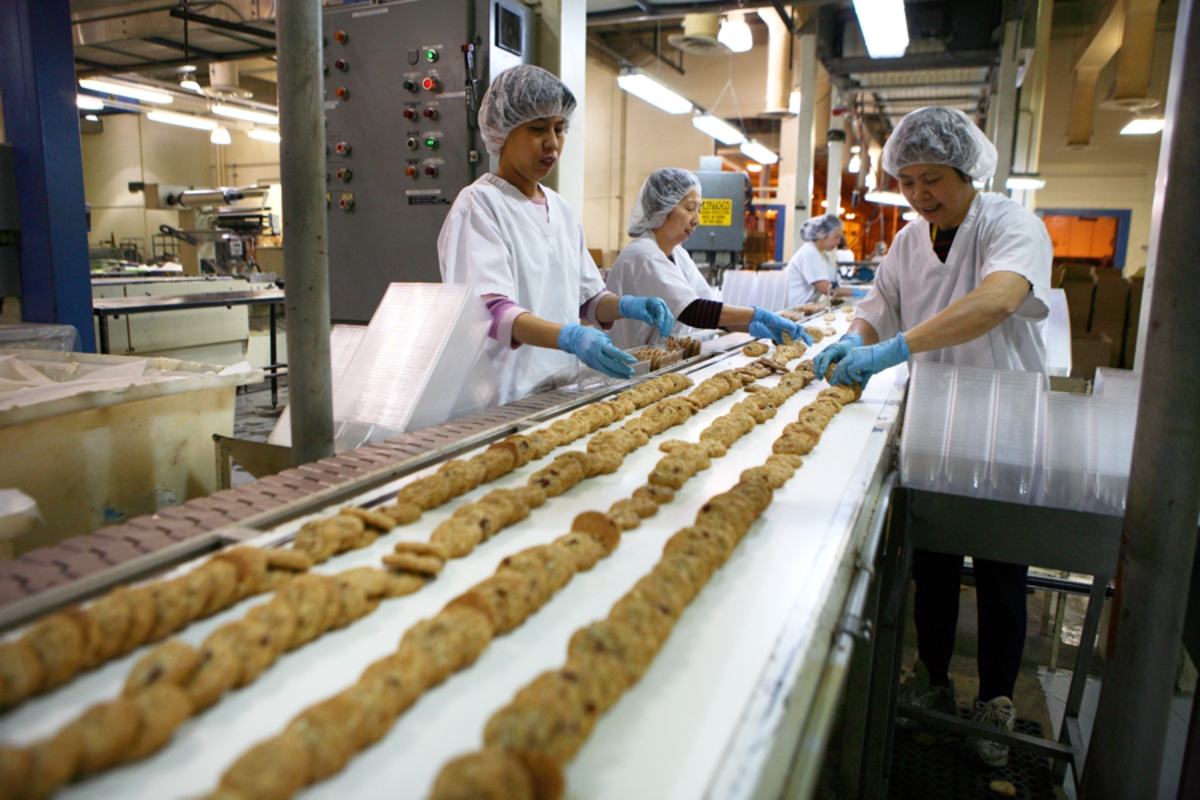 One of twelve production lines, producing Montana's Chocolate Chip Cookies, circa 2010.
For us, humble beginnings supplying a local market have grown to where today we have two production plants totaling 150,000 square feet and twelve production lines producing over fifty items that are not just gluten-free, they're all free from soy, dairy, peanuts, and tree nuts. Most are now egg-free too. Products are sold all over North America as well as offshore export markets.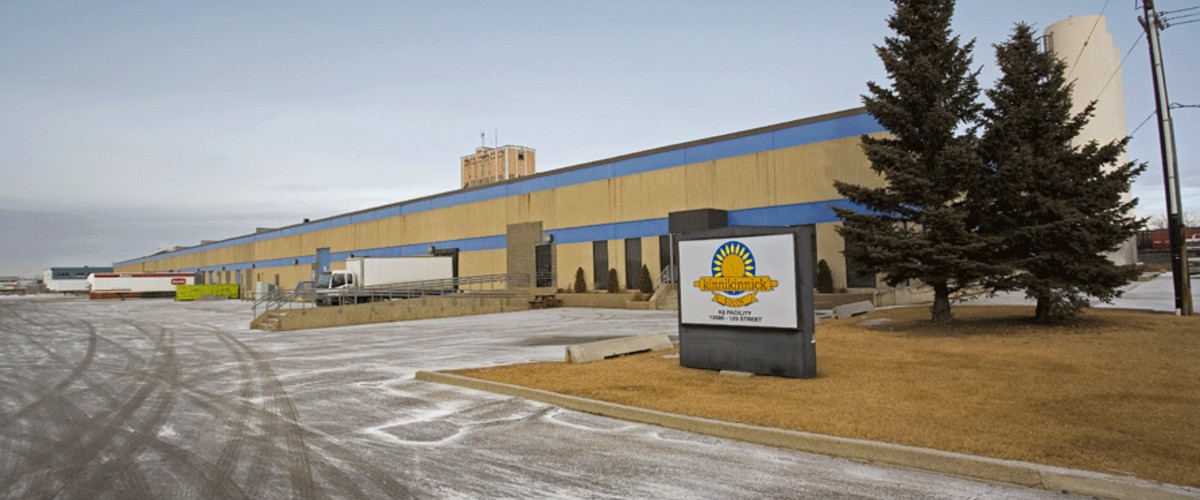 Kinnikinnick's second bakery, 110,000 sq ft, one of the biggest dedicated free from gluten and allergens factories in the world.
We are proud to have played a central role in the introduction of new gluten-free bakery items – the first sandwich crème (KinniTOOS) cookies; the first S'Moreable graham-style cracker; the first donuts; the first English Muffin; the first Vanilla Wafer.
That's "water under the bridge" now. The challenge facing Kinnikinnick is how can we serve our customers better into the future, while still maintaining some of the best-loved products in the market?
And of course, we need to deal with this after coming through the Covid -19 pandemic which has dramatically affected many of our plans. I will have much more to add to this story as we celebrate our 30th Anniversary with exciting new plans we'll be unrolling over the next few weeks.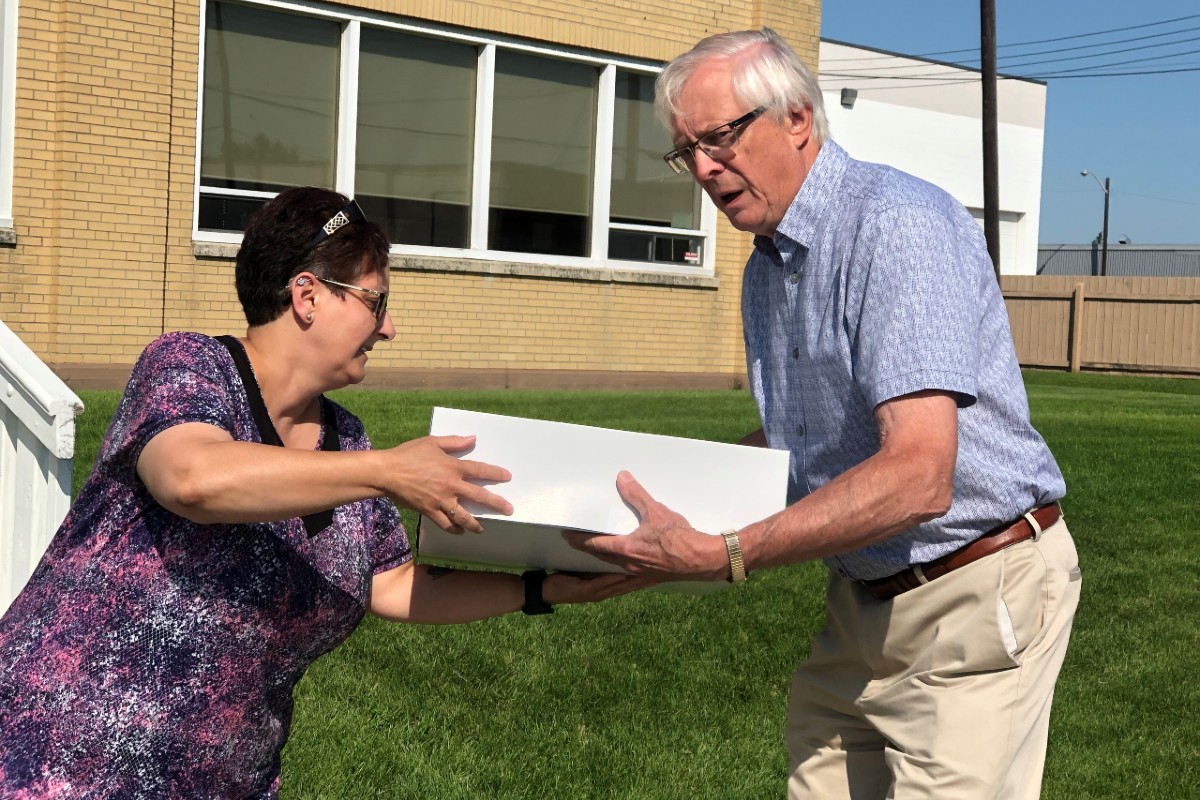 I got caught in the act. Helping a customer to her car with a box of baked goods from our retail store based at HQ.
All the photos in this story were taken before COVID.