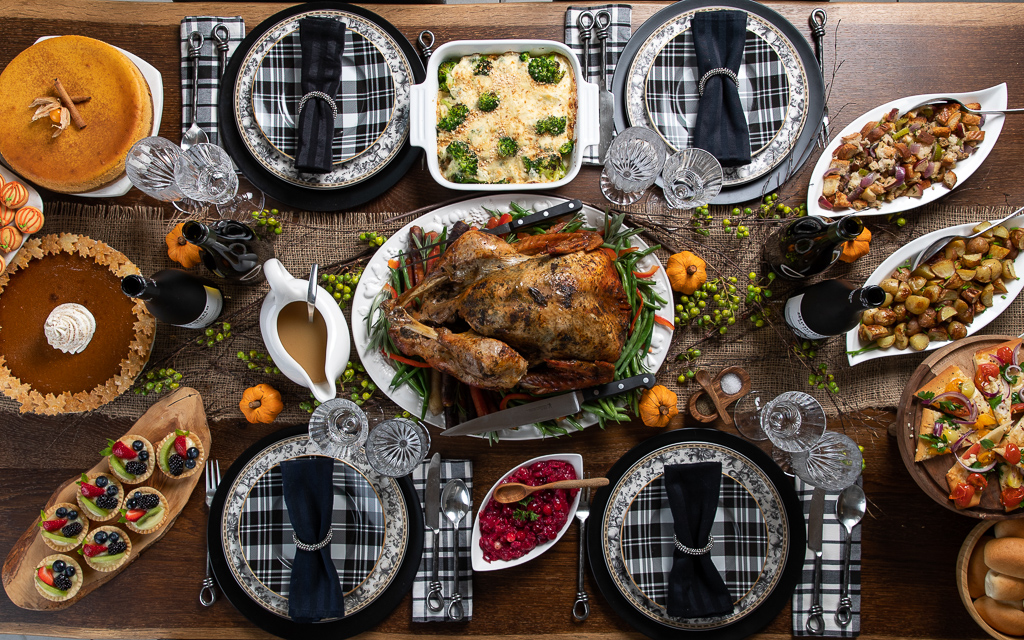 When festivities are all about sharing food, what happens when eating together can turn into a psychological and culinary minefield? Here's how to survive Thanksgiving, Christmas and the festive season if you need to eat free from allergens.
Many hosts and party-goers have no idea how a magical gathering could be ruined by just one crumb of gluten getting past your lips.



On the one hand, you want to eat normally, fit in and belong. On the other hand, letting your guard down could be disastrous. "Just a bit won't hurt. Your aunt spent two days making that stuffing. Oh go on..." taunts Uncle Bob.




Breaking bread together and sharing the harvest is what giving thanks is all about. Ask many adults to describe their best memory, and it's usually about sharing food with people they love.

But, if you're celiac or allergic, those comforting good times can be fraught with searing side effects when friends and family don't 'get it'. So we need to tell people eating gluten, dairy, nuts, peanuts and soy can be life-threatening. It's not a fad. We live with this every day and today we're getting together with all the family to 'enjoy' food. Gulp. Relax. It'll be fine.




So safely celebrate with with friends & family by following Kinnikinnick staff's gluten-free Thanksgiving survival tips.
Wishing you safe and scrumptious feasts, baked for sharing.
1) Host the event
Yes, it's a lot of work to take on the whole spread for a large brood, but it's the only way to be 100% sure everything on the table is free from allergens. Guests bring everything else to share the costs.
2) Pass on the potluck
Instead of bringing a dish that's likely cross-contamined, ask guests to cover costly extras like wine & spirits, table decor, ice...share the load & avoid risk.
3) Speak up
Let your host know in advance what you can and can't eat. Send them a list and simple well-researched info. so they get this isn't a fad diet. What is Celiac disease is a good place to start.
4) But I don't want to...
...What? Be 'difficult'? Different? Starve the whole night?
Really, it's okay to make yourself and your host a little uncomfortable with the kind and gentle truth. Grandma can be very convincing about that little gluten-filled fruit tart, but it's not her that has to sit on the toilet for the rest of the night and deal with razor blades in the tummy. Don't be afraid to politely say no thanks.
Put it down to education. It's not that people don't care, they often just don't know. Ultimately, you're responsible for setting clear boundaries to those that feed you.
5) Bake for sharing
Work with the host and do a little homework on other guest's dietary restrictions or allergies and create a pot luck dish accordingly. It means you bring something safe and scrumptious everyone can share. And encourages others to take the same care of you. This way you pull off a stunning dish your hosts wouldn't have come up with themselves.
Suggest recipes other guests can make for everyone to share. Scrumptious dishes that happen to be free from allergens. Who knew? Mmmm.
6) Get cooking
Help the host cook the meal. That way you know what you can and can't end up eating, as well as a great way to educate others about food allergies & cross-contamination risks.
7) Avoid cross-contamination in someone's kitchen.
It's vital you wash down all surfaces, tools and utensils in the host's kitchen. Don't use porous equipment like wooden chopping boards where all the gluten hides in the cracks. Your host's fridge is also likely to have an army of gluten and allergens hiding where it could hurt...like crumbs in the butter.
Sounds severe, but the only way to avoid getting 'glutened' in someone else's kitchen is to use ingredients from sealed packages, labelled gluten-free. Fresh produce and proteins, wash thoroughly and chop on a board you are certain is free from allergens.
8) Eat before
If you're really not sure there will be gluten-free or allergy-friendly options, eating before you go will save you starving all night. It's not the ideal scenario, but it means you can still enjoy good company, even if you can't relish the feast.
9) Bring your own appetisers & meal
If you're planning on drinking, don't on an empty stomach. Take appetisers free from allergens with you to avoid getting tipsy on bubbles and cocktails.
We know the whole point of Thanksgiving is sharing in gratitude, but at least bringing your own gourmet celebration means you get to go to the party and eat safely.
10) Stuff that
If the turkey's been cooked with gluten-filled bread, don't touch it. It's most likely cross-contaminated. Either ask the hosts in advance to cook stuffing separately outside the bird or use our bread. That was easy. We have so many festive gluten-free & free from Thanksgiving recipes you can make.
Note. Some turkeys are flavoured with 'broth'. Check it's gluten-free on the packaging.
11) First in serving line
It's worth feeling a bit rude to make sure you're the first in line. Then you can be sure serving utensils haven't been double-dipped in other dishes where gluten could be lurking.
12) Enjoy :)
Have a wonderful time together, with gratitude from our family to yours.