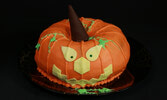 How to Enjoy a Gluten-Free, Allergy-Friendly Halloween
Everyone can enjoy tricks AND treats at Halloween, even if you have Celiac disease or allergies.
Make safe & scrumptious Halloween recipes with the kids. Perfect for spooky season.
Get inspired & stock up on Kinnikinnick gluten-free and allergy-friendly ingredients so you can share your boo-tiful creations with us on social media!
Learn to Make Gluten-Free Halloween Vanilla Wafers

Quick & easy, the kids will love icing Halloween decorations you can eat!




Add some spooky spirit to your table and your tummy.










Pumpkin Jack
O' Lantern Cake

A super-moist pumpkin cake where art imitates life. Let the kids get creative with fondant cut outs for the face.




Sweet Potato Cakes with Marshmallow Cream

Individual cakes topped with smooth marshmallow buttercream ghosts. Kids will love decorating and bringing each ghost to life!




Pumpkin Cupcakes Spiced Cream Cheese Icing

It's hard to stop after one of these safe & scrumptious cupcakes. Perfect for the fall and Halloween season!




Pumpkin Spice
Muffins

Simple, moist muffins make for perfect pick me up. For any time of day - morning, noon, and night!




Pumpkin Spice
Cheesecake

Silky smooth cheesecake, full of seasonal spice. Learn how to make a steam bath for crack-free results.




Pumpkin
Pie

A classic fall dessert recipe, the perfect pie for cooler months. Our recipe makes two pies!



Pumpkin Spice
Cookies

These fall favourite cookies are moist, light, and have a cakey texture. Everyone in the family will love them, allergic or not!




Pumpkin
Torte

Look no further for a super moist cake with a wow factor sure to impress your guests. You can make this torte in just over an hour!




Pumpkin Chocolate Chip Cookie Bars

Is it a cookie? Is it a cake? One thing's for sure this cookie bar with a subtle hint of pumpkin flavour is absolutely scrumptious.



Share your Halloween creations with us on social media using #KinnikinnickHalloween!
Stock up on gluten-free ingredients now!