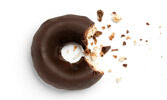 Sometimes we get asked why is gluten-free food more expensive than 'ordinary foods.
There are three main reasons.
1) The number of ingredients
2) Guaranteeing a free-from supply chain
3) Testing
1) The number of ingredients.
You can make gluten bread with just a few ingredients. Flour, water, yeast and some form of fat.
For our gluten-free bread we need over twenty ingredients, which, when combined, mimic all the things gluten does to flour to make it stretchy, tasty and light.
All those different ingredients need to be sourced 100% gluten-free, allergen free and GMO free; that's not easy. They need to be free from all the allergens we guarantee, and they need to be kosher also.
2) Free From supply chain.
We have to source products from all over the world to ensure we can get everything 100% gluten and allergen free. That's a lot of research, factory visits and purchase and delivery agreements to arrange for each ingredient, which all needs staff time to organise.
3) Testing
In order to guarantee being free from major allergens, we have to test for them. We use a whole arsenal of tests to make sure every single ingredient is free from the allergens we say it is.
For gluten, we guarantee less than 5 parts per million (that's even better than the 20 parts per million standard set by the CFIA and the FDA to claim 'gluten-free').
We test for items highlighted in red below. For the other known major allergens listed below we accept our supplier's free from guarantees and work very, very hard to make sure they're the best sources we can find.
Gluten

Dairy

Peanuts

Nuts

Soy

Sesame
Mustard
GMO's
Shellfish

Artificial Colours
Preservatives & Flavours
Find out more about our supply chain, testing and free from GMO's.