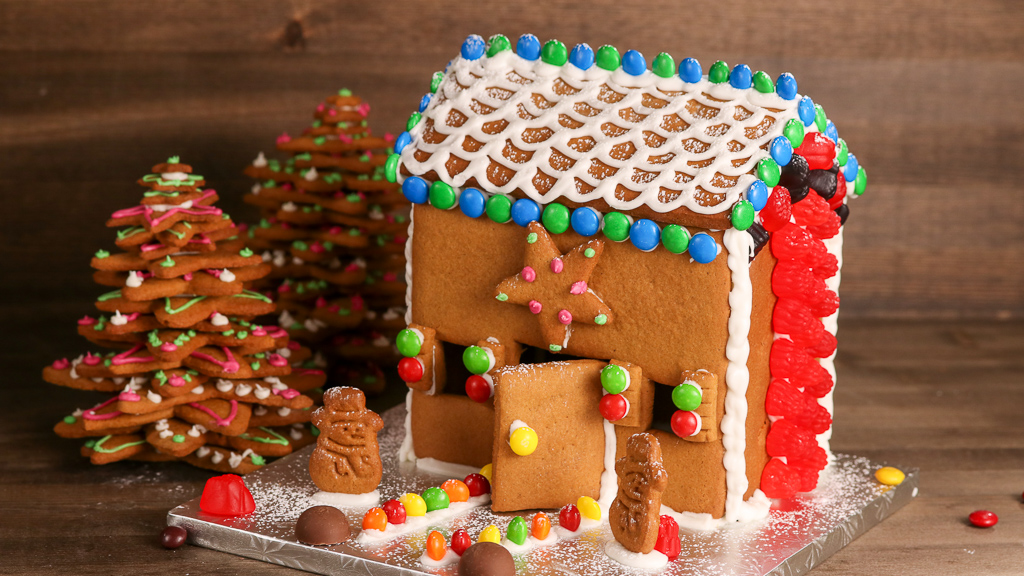 Gingerbread House


Nutrition Facts Canadian

Nutrition Facts Canadian
Valeur Nutritive

1 Gingerbread House 2018g Total Servings: 1




% Daily Value

Amount

% valeur quotidienne Teneur

Cholesterol / Cholestérol

475mg

158%

Carbohydrate / Glucides

591g

197%




20%

Vitamin A / Vitamine A

2%

Vitamin C / Vitamine C

30%

Riboflavin / Riboflavine

* Based on a 2000 calorie diet




Nutrition Facts US

Nutrition Facts US

Per 1 Gingerbread House 2018g Total Servings: 1



Amount Per Serving



| | | |
| --- | --- | --- |
| Vitamin A 20% | • | Vitamin C 2% |
| Calcium 60% | • | Iron 80% |
| Thiamine 5% | • | Riboflavin 25% |
| Niacin 15% | • | Folate 15% |

* Based on a 2000 calorie diet




Share Buttons Inserted Here, the share buttons will be dynamically placed here. No need to do anything here.

Prep time

30 mins

Cook time

20 mins

Total time

120 mins

Ingredients


Dough (Need 2 Batches)


1 packages Kinnikinnick Sugar Cookie Mix (454 g)

1 tbsp ground ginger (5 g)

½ tsp cloves (1 g)

½ cup margarine (113 g)

1 tsp pure vanilla extract (2 g)

⅓ cup molasses (111 g)

¼ cup brown sugar (55 g)

1 large egg (56 g)

Icing (Need 1 Batch)


3 egg whites (99 g)

3¼ cups icing sugar (325 g)

Note

You'll need two batches of dough for this gluten-free gingerbread house. For best results mix dough in two separate batches.
Download Gingerbread House TEMPLATE

Cookie Dough

In a medium bowl combine margarine, molasses, brown sugar and vanilla. Cream until light and fluffy.
Add egg. Mix until incorporated.
Slowly add Kinnikinnick Sugar Cookie Mix ginger and cloves. Mix until combined (pea size texture).
Finish mixing dough on counter with hands until smooth.
Form dough into a log. Cover with plastic wrap and refrigerate for 30 minutes.

Rolling Out Cookie Dough


Preheat oven to 350°F (176°C). Line 2 baking trays with parchment paper.
Roll dough on a lightly floured surface about ¼" thick (use Kinnikinnick All Purpose Flour Blend to aid in rolling out pieces).
Using gingerbread house stencil to trace and cut out pieces.
Use a pallet knife to help reshape and move cut outs to parchment lined baking tray. Cut out pieces need to be as straight as possible (this will help with assembly).
Bake in preheated oven. Times vary depending on size.
The door and chimney pieces take 7 minutes to bake.
The back, front, sides and roof pieces take 14 - 17 minutes (times may vary depending how thick or thin your pieces are).
Remove from oven and cool on pan completely prior to assembly.


Icing/Assembly


In a medium bowl whip egg whites to soft peak.
Slowly add icing sugar 1 cup at a time.
Assemble with royal icing using a pallet knife or piping bag.
Allow each side to set in place before adding the next piece.
Make sure all 4 sides are secure before building roof.
Let set before decorating.

Decorate with your favourite gluten-free candies.

Yields: 1 gluten-free gingerbread house




Tips & Variations

There will be some left over dough. Use for decorations or gingerbread cookies.



Stock up your pantry