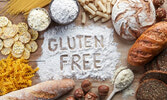 When it comes to baking gluten-free, there are a few simple tips that will make life easier and your end results better. Whether you're just starting out on your gluten-free journey or have been eating this way for years, follow these guidelines and put the fun back into baking.
At Kinnikinnick we strongly believe in "Keep your cookbooks'. All your favourite family recipes are still do-able if you make a few adjustments and find substitutes for ingredients that may contain hidden gluten. The most important thing is that you experiment. Don't be afraid to fail. It's like learning anything new.
If you're adapting family-favourite recipes, keep notes on what works and what doesn't. Keep track of measurements and adaptations. You'll remember for next time and your baking will only get better.

An easier way to learn and pick up tips of course, is to follow specially created gluten-free recipes, where the hard work has already been done for you. We've created gluten-free versions of classic dishes on our website, so that's a great way to learn if you're new to baking, or even if you're a seasoned baker or cook. Seven hundred recipes contain a lot of wisdom and experience, which can teach you everything you need to know about cooking gluten-free. Now, let's get baking.


| | |
| --- | --- |
| 1. Use gluten-free flours: Avoid gluten-containing flours like wheat, barley, spelt, triticale and rye. Some good gluten-free options include blends, rice flour, almond, coconut, tapioca flour, and potato starch. Check out our full blog on baking with gluten-free flour. | |
2. Use xanthan gum or guar gum: Gluten-free flours lack the elasticity and structure that gluten provides, so adding a binder like xanthan or guar gum can help to hold the ingredients together and give your baked goods a better texture. Or make life really easy and use an All-Purpose Flour blend where the hard work of getting the ratio between flour, gum and leavening agents has already been perfected for you.


3. Use a gluten-free baking mix: If you're new to gluten-free baking, using a pre-made gluten-free baking mix can be a great way to get started. Check out the different mixes for great results every time. White Cake, Chocolate Cake, Angel Food Cake, Sugar Cookie Mix.



4. Add extra liquid: Gluten-free flours tend to absorb more liquid than regular flour, so you may need to add more liquid to your recipes to compensate. This can help to keep your baked goods moist and prevent them from becoming dry and crumbly.
5. Use fresh ingredients: When baking gluten-free, use fresh ingredients where you can. Fresh food retains minerals & vitamins, which contribute to strong gut-health & microbiome.



Old ingredients can make the texture and taste of your baked goods stale.





A caveat: we compared fresh with eggs in a carton and actually didn't notice much difference in the recipes we tried.



6. Don't overmix: Overmixing can cause gluten-free baked goods to become tough and dry. Mix your ingredients until just combined and avoid overworking the dough. Doughs and batters tend to gelatinize the gums (xanthan & guar) in flour blends/mixes, so you could end up with a 'slimy' texture if you over do it.
7. Adjust baking times and temperatures: Gluten-free baked goods may require different baking times and temperatures than their gluten-containing counterparts.

Set your timer for 5 minutes less than you would for a gluten-containing item or recipe from legacy cookbooks. Add additional time as needed at the end of the bake to ensure the item is cooked through, but not burnt.

Check your baked goods often by sight, NOT opening the oven, (which will drop the temperature and ruin your baking). Overcooking will make your baked goods dry & crumbly.

There is no one-size-fits-all answer. Success depends on the correct balance between the right flour, liquid, fat, sugar, gum, temperature, time and the oven. Even the altitude.
Altitude also affects baking times. For high altitudes it's often best to increase the amount of water, (liquid evaporates faster at altitude), and add a little more flour while increasing baking temperature a few degrees because things take longer to cook at altitude, so increasing the temperature sets the cell structure.

The higher up you go, you'll want to cut down the amount of leavening agents like baking soda & powder which expand more due to lower air pressure at altitude. Also, because liquids evaporate faster and water boils at a lower temperature, sugar concentrations will be higher at altitude, possibly making your cakes and cookies too sweet. Experiment and cut out a little sugar.

If you live way up at the top of a mountain you might want to avoid mixes with raising agents already added. You might be better off experimenting with a gluten-free flour blend and adding more or less baking soda/powder.

As a general rule, start with the baking time and temperature specified in the recipe and then adjust as needed based on your individual experience and results. Cooking at altitude is a complex art & science but if you follow these rough guidelines, you'll quickly get better results.
8. Stop the sticking. Gluten-free baked goods can stick to baking pans more easily than regular baked goods. Using a non-stick baking spray or parchment paper to line your tins can help to prevent your baked goods from sticking. Spray or paper will also make it much easier to remove items from the pans once they're baked.




9. Let baked goods cool: Gluten-free baked goods can be more delicate than regular baked goods, so it's important to let them cool before removing them from the pan or slicing them. Ten minutes to cool is good. Don't leave baked goods longer, or they'll sweat in the pan & could go soggy.



Let products cool completely before freezing to prevent ice crystals building up.
10. Experiment and have fun: We say keep your cookbooks and with a little trial and error you can make all your old family favourites gluten-free. So go ahead and get baking and trying the seven hundred gluten-free recipes in our website library.
If you have any other top tips for baking gluten-free, please write to let us know and we'll add them here.