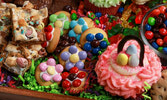 Festive times should be fun. For those with celiac disease, gluten-intolerance or food allergies, what's supposed to be a great time with family and friends can be a nightmare. More like a minefield of safety hazards and unwanted encouragement by well-meaning loved ones to eat what you know will have dire consequences.
So, let's put the enjoyment back into Easter and other festive occasions. These simple steps will have you putting worries aside so you can feel normal, join in and really love sharing time again with those you love. Because the best things in life are the small connections and the little things.
1. Plan ahead: Start planning early to ensure that you have enough time to prepare gluten-free Easter dishes, treats, and decorations.


2. Check ingredient labels: Read every label every time. Read ingredient labels carefully to avoid any hidden sources of gluten in unexpected places, such as spices, condiments, and seasonings.


3. Choose gluten-free Easter candy: Many Easter candies are not gluten-free, so make sure to choose gluten-free options. Look for candies with gluten-free labeling such as the GFCP program, or if in doubt check with the manufacturer to confirm they are gluten-free. Check independent resources to get un-biases reports on safe products. Here are some from our favourite organizations.

| | |
| --- | --- |
| 4. Make gluten-free Easter treats: Make your own gluten-free Easter treats such as cookies, cupcakes, or other desserts. This gives you control over the ingredients so you can be sure they are 100% gluten-free. There are many Easter recipes on our website. | |
| | 5. Use gluten-free flours: When making Easter treats and dishes, use gluten-free flours such as almond flour, rice flour, or coconut flour. Or better yet, use a gluten-fre All Purpose flour already blended with the perfect ratio of gums & leavening agents. Check the blog on gluten-free flours. |
| 6. Serve gluten-free Easter brunch: Serve a gluten-free Easter brunch like traditional eggs Benny using our Traditional English Muffins. Or serve your favourite gluten-free bread, cinnamon rolls, eggs, fresh fruit, and gluten-free breakfast meats. Recipes here. | |

7. Make gluten-free Easter eggs: Make your own gluten-free Easter eggs by filling plastic eggs with treats such as gluten-free candies, nuts, or dried fruits.
8. Decorate with gluten-free Easter decorations: Make your own gluten-free Easter decorations such as paper bunting, dyed eggs, or fresh flower arrangements.

9. Communicate with your host: If you're going out to an Easter celebration, make sure to communicate with your host about your gluten-free needs. Perhaps suggest others bring gluten-free dishes or snacks to share if it's a pot-luck. Check out our blog how to navigate festive celebrations.

10. Enjoy gluten-free Easter ham: Traditional gluten-free Easter hams can be found at your local grocer or butcher. Or make your own glaze with gluten-free ingredient mix of a vegetable or meat broth and fruit juice, jam, honey, maple syrup, or marmalade.

| | |
| --- | --- |
| 11. Try making gluten-free hot cross buns: Make gluten-free hot cross buns using our gluten-free flour and other ingredients. Here's our recipe. | |
| | 12. Serve gluten-free Easter sides: Serve gluten-free Easter sides such as roasted vegetables, gluten-free stuffing, and gluten-free gravy. Search recipes. |
| 13. Use gluten-free crumbs: Use gluten-free breadcrumbs when making casseroles, stuffing, or meatballs. Like our Panko Crumbs. Or for cheesecakes, pies and desserts chose our gluten-free Graham Crumbs. | |
| | 14. Stick to gluten-free beverages: There are many gluten-free beers these days you can enjoy. Wine & spirits are naturally gluten-free, but make sure there are no additives that could contain hidden gluten. |

15. Have a gluten-free Easter egg hunt: Hide plastic eggs filled with gluten-free candies or other treats.


16. Make a gluten-free Easter basket: Use gluten-free candies, snacks, and other treats.


17. Try a gluten-free Easter pie: Make a gluten-free Easter pie using a gluten-free pie crust (ours comes with two in a box) and filling. Search website for recipes.




18. Make gluten-free deviled eggs: Here's our recipe, using gluten-free mayo, mustard & paprika.

Deviled Egg Crostini (using our Hot Dog Buns) shown here, one of our favourite recipes.
19. Gluten-free desserts: Enjoy hundreds of gluten-free dessert recipes on our website, like Meringue Egg Baskets, Easter Cupcakes, Easter Bunny Truffles, Paska Egg Bread, fruit salads, mousse, or ice cream cakes.


20. Enjoy the holiday: With a little planning and preparation, a gluten-free Easter can be just as enjoyable and delicious as any other traditional Easter celebration.